Discovery of Shri Amarnath Cave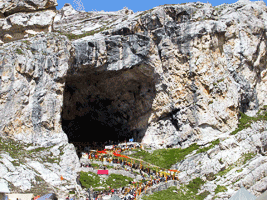 According to an ancient tale, there was once a Muslim Gujjar (shepherd) named Buta Malik who was given a sack of coal by a sadhu. Upon reaching home he discovered that the sack, in fact, contained gold. Overjoyed and overcome, Buta Malik rushed back to look for the sadhu and thank him, but on the spot of their meeting discovered a cave, and eventually this became a place of pilgrimage for all believers. To date, a percentage of the donations made by pilgrims are given to the descendants of Malik, and the remaining to the trust which manages the shrine. He announced the discovery of this to the Villagers. Then onwards this has become the sacred place of Pilgrimage.

The ancient epics narrate an other story which goes like this. The valley of Kashmir was under water. It was a big lake. Kashyap Rishi drained the water through number of rivers and rivulets. In those days Bhrigu Rishi came that way on a visit to The Himalyas. He was the first to have Darshans of this Holy Cave. When people heard of the Lingam, Amarnath for them became Shiva's abode and a Centre of pilgrimage. Since then Lacs of devotees perform the pilgrimage through tough terrain and avail eternal happiness. The trek to Amarnath, in the month of sharavan (June-July-August) has the devout flock to this incredible shrine, where the image of Shiva, in the form of a Lingam, is formed naturally of an Ice Stalagmite, which waxes and wanes with the Moon's cycle. By its side are fascinating, two more Ice Lingams, that of Maa Parvati and of their son, Ganesha.

Whatever the legends and the history of Amarnath's discovery, it is today an extremely crucial centre of pilgrimage, and though the route is as difficult to trespass as it is exciting, every annum, millions of devotees from the subcontinent come to pay homage before Shiva in one of his Himalayan abodes.